---
Jean-Pierre Marcellesi was born in Bastia, France. The musician grew up in Morocco for a long period before returning to his native island Corsica. He inherited his musical Mediterranean roots from his father, a guitarist, and his grandfather, a songwriter.
His musical career started in the early 1980's, when he joined to his first group. This music composer and performer, guitarist, or as he defines himself, melodist, is the pride and voice of his native island. He sings in many languages like Catalan, Italian or Portuguese.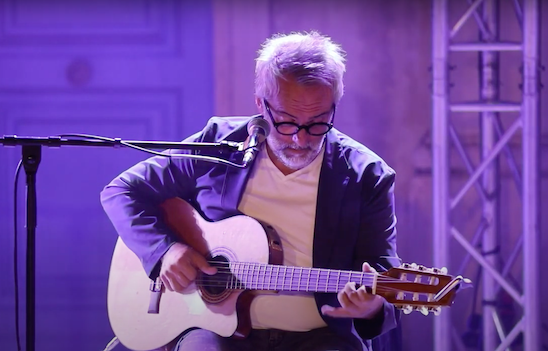 With a style that includes samba, mambo, bossa, African rhythms, Corsican traditional music and some other genres, this artist is an atypical and at the same time outstanding melodist.
His work, leaded by the inspiration of the moment mainly, preserves an artisanal essence, where the artist is so into the music that simply loss the sense of time searching for the right sound.
Jean-Pierre has worked in several projects, like "Barqueiro" (2000), "Distinu" (2008) with Alan Stevez and Christophe Mondoloni, "B.O.F Du Film Turf" (2012) with various artists, Yves Prevel, Faf Larage and Said, to mention a few, "Corsica: L'Essentiel (The Greatest Songs of Corsica: from The Classics to the New Generation, Including Corsican Polyphonics)" (2016), with various artists, and "Corsu Mezu Mezu" (2015) with Chico and Claire Keim.
"Solu Mai", a proper album of the artist, was released in 2008 and includes 12 titles. "Una Mani" also by the composer, saw the public light in 2017 and includes 16 titles.
"The guitar is my shield", said Marcellesi, who has a unique and particularly special sound while playing it. This passionate artist, with a very long trajectory, has a brilliant mind and a big talent to keep showing.
Follow

 Jean Pierre Marcellesi

 

            
---