---
This Ayacuchana, defender of poetry and Quechua culture from the Peruvian Andes, María Consuelo Jerí, is a passionate singer with nothing more than pure love, respect and appreciation for her roots and homeland. She interprets diverse music genres and in some indigenous languages all from Peru.
Jerí started singing since she was a young girl, singing in Quechua with her father and being influenced by her familiar environment, where most of her family were attached to the traditional music of her natal Santiago de Paucaray. Consuelo studied odontology, but wanted to also dedicate time to her music and goal of represent the culture where she come from in front of the world.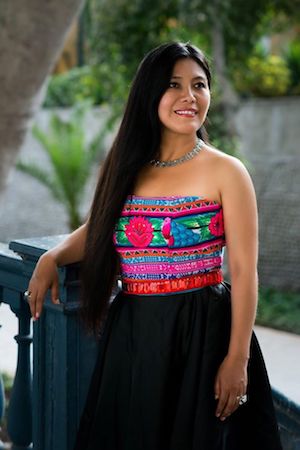 Her first album "Ukumanta Takiy" (In Spanish 'Canto desde adentro' or English 'Sing from within') was released in 2011, and it contains 14 titles, with the collaboration of Julio Humala and other great traditional musicians.
Two years later, the singer participated in the film "Kachkaniraqmi" (In Spanish 'Sigo siendo' or English 'I am still'), which name is a Quechua expression and that gave Consuelo the opportunity of raise her voice to a bigger amount of people, and spread the Quechua songs of her native village. Jerí's third album "Mayu" is a collaboration with the talented Peruvian guitarist Marino Martínez, and was released in 2017 including 13 titles.
In 2018 collaborated with the artist Rolando Carrasco Segovia, working on two of the songs that comes in the album "Paqcha Sirena": "Mana Waylluna" and "Siwar Qente".
Her voice vibrates with tenderness, charged with a unique tone and pure feeling of proudness for her culture, a non-commercial artist whose desire is to put the name of her Quechua legacy up.
Follow

 Consuelo Jerí



       
---